PTC LIQUID HEATING ELEMENTS
MODEL NOMENCLATURE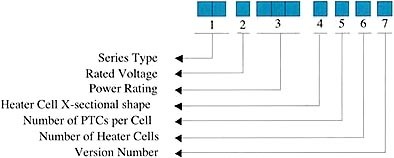 HL6200A311

HL :

HL Series

6 :

VR=10-16V

200 :

200W

A :

Tech drawing SVDD004

3 :

3 PTC per cell

1 :

1 cell total

1 :

Single-Pass

HL212KB862

HL :

HL Series

2 :

VR=220-240V

12K :

1,200W

B :

Tech drawing SVDD005

8 :

8 PTC per cell

6 :

6 cell total

2 :

Mult-Pass
---
STANARD MODELS
Model No.

VR(V)

P(W)

Water Flow Rate

T(

C)

APPLICATIONS

HL6200A311

12

300

3L/hr

70

Coffee Pot Water Heater

HL21K5B612

240

1500

60L/hr

18

Water Heater for Washing Machine

HL212KB862

240

12,000

480L/hr

18

Instant Water Heater/Steam for Shower & Sauna
Note:

T=Exit Water Temp-Input Water Temp (25

C)
When placing an order, please provide specification paremeters as indicated in the above table.

Note 1:The table provides standard HL PTC heaters available for production.

Note 2:For heaters of non-standard dimensions, please send specific inquiries to our sales department.

Note 3:Unit price for the standard unit is set according to the purchase volume. Please ask for direct quotations.
Non-standard unit quotations usually provided after the fabrication of the prototype.